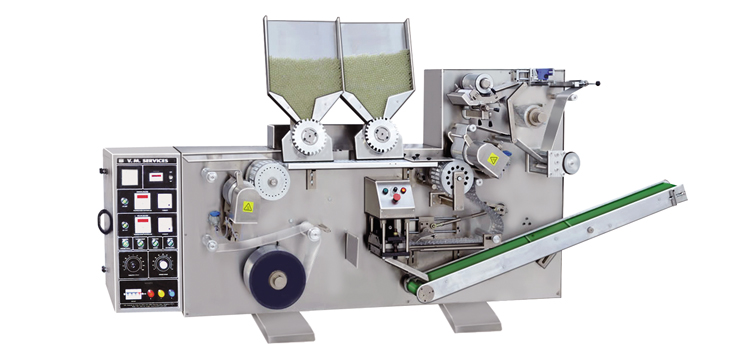 Salient Features
Fully automatic, system with continuous operation cycle mechanism for efficient packing.
Automatic synchronized sternwheel system sets harmony with blister formation and ensures smooth feeding.
A comparatively lengthy 'Guide Track' for rigid inspection for missing blisters, if any.
Crease proof sealing pattern to eliminate capillary formation of foil on sealing. Contact heating system with pneumatic actuation allows blister forming with even heating and save wastage of PVC after every stoppage.
Universal type chain driven batch printing unit, specially designed ergonomic and aesthetic partially electronic control panel board protects electrical operational components..
Suitable designed framework and usage of high quality bought out components from trusted names make the operational system perfect.
An automatic synchronized system specially design and manufactured to suits the latest packaging need of Injectables.
Packagable Products
Glass ampoules up to 10ml and Glass/plastic vials up to 10ml. Droppers, Syringes, etc., can be packed with manual feeding.
Packaging Material
1) Base Film
Opaque, transparent or colored thermo formable and non-toxic PVC.
2) Lidding Material
Aluminum foil with heat-sealed lacquer or Glassine paper foil.
3) Operational Facilities (available on prior intimation)
In-line scoring unit for dispersing of blister into two
Thermoforming of manufacturer's / product's name
Printing registration of control system.
Combination packing facility
P.L.C. based operational system
4) Necessary Equipment
For efficient functioning of this system we recommend the installation of
A 5Hp air compressor of 200 liters air tank with a minimum pressure of 120 Lbs./8 Kg (at par with Ingersoll–Rand IR–242 air compressor).
A water cooler of 160 liters per hour capacity with a temperature drop of 170C.
Any Suitable Equipment to maintain the working temperature of environment between 180C to 220C.
Output
40-50 strokes per minute (maximum) (Size and No. of packs depends on selection of change parts, products to be packed and operator's skills).
Power Requirement
8 kw (415V, 3 Phase, 50HZ, AC electric supply if different please specify voltage required.
Dimension in mm
L X B X H = 3020 X 865 X 1872.
Technical Specification
Description
Range
INJ-300
PVC Base Film
Max Width
228mm
Thickness
0.25 to 0.35mm
Max Reel Dia
440mm
Aluminium Foil
Max Width
124mm
Thickness
0.025 to 0.035mm
Max Roll Dia
210mm
Forming Area
Minimum
220 x 25mm
Maximum
220 x 132mm
Pack Length
Maximum
220mm
Pack Width
Maximum
140mm
Forming Depth
-
27mm